A One-Note Screech Fest That Makes You Wish It Stayed Mum
Mrs Chatterjee Vs Norway marks Rani Mukerji's loudest turn.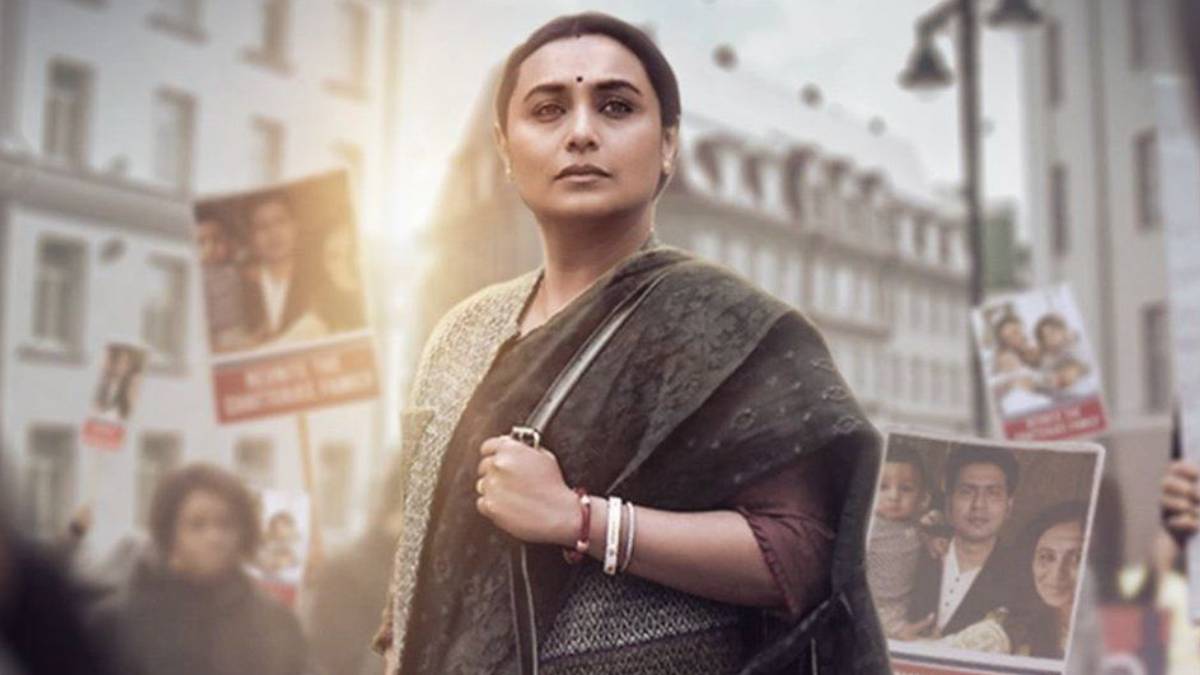 AS A WRITER, I have one rule of thumb while judging someone else's writing. If any piece starts with a random quote, I find myself slowly, but steadily, dismissing it. Before you judge me, my counter argument is you cannot borrow your first words from someone else. After watching Ashima Chibber's Mrs Chatterjee Vs Norway, a film so loud that my brain sent a signal to my ear to stop listening, I will be applying the same rule to films. Chibber's sophomore outing opens with Rudyard Kipling's overused, Hallmark-esque quote, "God could not be everywhere, and therefore he made mothers." Subsequently, the film spends an awful amount of time to prove this right but the treatment is so overwrought and heedlessly dialled up that by the end I was left feeling irrationally mad at Kipling.
Levity aside, Mrs Chatterjee Vs Norway is based on a compelling real life incident. Back in 2011, an Indian couple in Norway faced an unimaginable tragedy: their children were taken by the Norwegian Child Welfare Services on the grounds of improper treatment. This initiated an uphill struggle as the mother, Sagarika Bhattacharya, fought legalities, cultural barriers and moved countries (literally) to get her children back. In the midst of this, her own marriage broke down. No matter how you look at it, this is a tale of impossible courage emboldened by maternal prowess.
Retelling such a story thrums with promise. But Chibber's outing is a one-note screech fest that not just refuses to ponder over nuances but also unfolds in the broadest of strokes; as a result the characters are reduced to clichés and the protagonist is minimised to a stereotype.
— ISHITA SENGUPTA
How Rocket Boys Season 2 Grounds Its Geniuses

THERE IS A SCENE in the second season of Rocket Boys, where Vikram Sarabhai's mother reacts to the news of her son and daughter-in-law moving out of their ancestral house. "Acha hai, isse Vikram ko daal aur aate ka bhav toh pta chalega," she says to Mrinalini, Sarabhai's wife. It's a sequence that perfectly illustrates why Rocket Boys is pitch perfect telly. Enmeshed with global political intrigue, a nation on the cusp of social and scientific epiphanies, Rocket Boys has remained committed to the fact that no genius can live without being somewhat upstaged by the intimate and the personal. It's a creative distinction that the show has successfully made from what could so easily have become a jingoistic celebration of a self-serving version of history. On the contrary, in its second season, Rocket Boys continues to be seductively tranquil and composed despite engaging with high-wire acts like espionage and war.

— MANIK SHARMA

Netflix's Cricket Docu 'Caught Out' Skids On A Sticky Wicket

NETFLIX INDIA has a documentary problem. Given that it has been only a few days since the streaming giant-backed docu short The Elephant Whisperers won an Oscar, the irony of making such a claim is not lost on me. However, I would say that the inclusion of Kartiki Gonsalves' Tamil-language short on the platform is an anomaly and not the norm. A closer look at its roster, comprising mostly true crime outings, financial exposés and homegrown archives of artists, underscores the point. Notwithstanding the disparate thematic excursions, documentaries produced by Netflix India are prone to sacrificing depth at the altar of sensationalism. The recent addition to the list, Caught Out: Crime. Corruption. Cricket is cut from the same cloth. More worryingly, it is an instance of abject indolence in documentary filmmaking at a time when India is housing some of the most compelling independent voices.

— I.S.
| | | |
| --- | --- | --- |
| The one newsletter you need to decide what to watch on any given day. Our editors pick a show, movie, or theme for you from everything that's streaming on OTT. | Each week, our editors pick one long-form, writerly piece that they think is worthy of your attention, and dice it into easily digestible bits for you to mull over. | In which we invite a scholar of cinema, devotee of the moving image, to write a prose poem dedicated to their poison of choice. Expect to spend an hour on this. |
Hindustan Media Ventures Limited,
Hindustan Times House, 18-20,
Second Floor, Kasturba Gandhi
Marg, New Delhi - 110 001, India
If you need any guidance or support along the way, please send an email to ottplay@htmedialabs.com. We're here to help!
©️2021 OTTplay, HT Media Labs. All rights reserved.